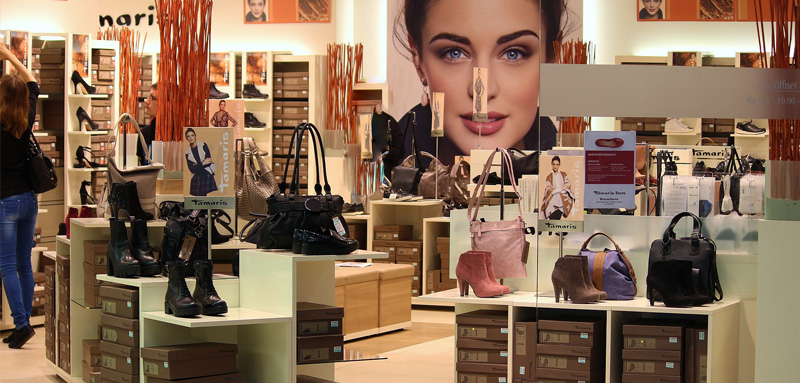 Photo courtesy:https://pixabay.com/en/business-shoes-bags-leather-goods-888146/
What does your retail space comprise of? The display window, the lights, the walls, the furniture, and lots more packaged together. In short, your retail space is a sales pitch. Quite literally. And what exactly is it selling? The merchandise, of course, and more importantly, your brand. That's right! the retail space should tell your brand's story. Here are some observations and ideas that will help you design or redesign your retail space better.
The first impression should be a lasting one too
It is important that your store design keeps a customer interested all the way through during his/her visit. While a bright setup can generate attention, minimalistic treatment creates an elegant outlook. Also, make sure you bring in your brand's identity through design elements like floor branding and graphic wall visuals. This helps in creating an impression with a high remembrance value.
Right is the right way
It is a known fact that more than 90% of the customers turn right unconsciously as they enter a retail space. Interesting isn't it! You can use this insight to your advantage. Give an attractive visual treatment to this part of your store. Make it intriguing enough to ensure you have got the attention of the customer who has just walked in.
It's all on the wall
The first wall that a customer looks at is known as the power wall. It has a high impact value. This wall needs to be given extra attention in terms of both design and merchandise. For product placement, it is recommended to think vertical. This will help you in terms of space and visual. You can also use this wall to tell more about your brand.
Rainbow for a reason
To catch the attention of the customers in your retail space, you only have a few seconds. So it is recommended to present your products in the best way possible. It's been proven that using a VIBGYOR colour sequence to place the merchandise has positive effects on the customer's psychology. You could definitely use this idea right away!
Create a comfort zone
Your retail space should give one the comfort of shopping and moving around with ease. The merchandise and furniture in your store should be placed in such a way, that they are easy on the eye. Also, mirrors angled towards the window gives the sense of additional space.
Walk the stock
Design a path in your store enabling your customers to walk through the merchandise. This way every product in your store gets maximum exposure. Also, this idea helps in controlling the traffic. Making the customers walk a path increases the chances of them purchasing the product.
To give your retail space, the advantage of design get in touch with one of the best retail interior designers in Bangalore - Chartered Interiors.